Games and skills developed
Plants for the Garden
Spatial Relationships: Recognizing shapes and exploring spatial relationships
Children must place the seeds that are left behind by Mr. John and Mr. Jack in the garden. Each group of seeds has a shape that corresponds to a location, like a puzzle. Children must observe how each shape fits into the garden according to the spatial arrangement of each scene.
The Egg Hunt
Evaluation and Comparison: Learning to measure quantities and compare weights
Children must place the right elements on the two platforms of the scale to allow the characters to collect the coloured eggs. From one scene to another, the platforms must be balanced by placing the quantities and weights required on each of them.
Hungry Insects at the Pond
Visuomotor Coordination: Practicing visuomotor coordination
Children must feed each insect according to its colour while keeping track of the number of insects and leaves. To achieve this, children must combine several visuomotor coordination skills such as visual processing, motor planning and motor control.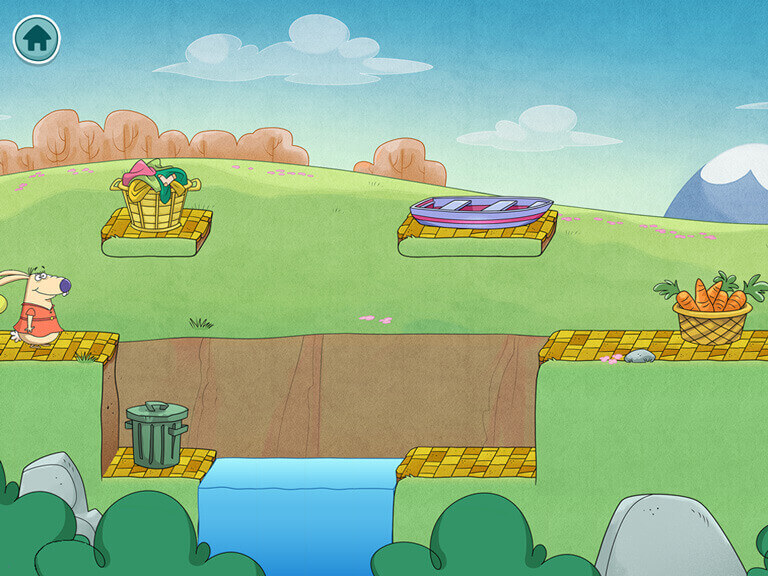 Mrs. Cottontail Takes a Walk
Cognitive Strategies: Learning to place the right object in the right place at the right time
Children develop their visual recognition and sense of anticipation. They must combine several skills by using their sense of observation and logical deductive ability to determine what object will allow Mrs. Cottontail to overcome the obstacle that stands in her path. The more obstacles there are, the more children must use their memory to remember which object to move into which position, and sometimes even at which precise moment.
Time to Eat, Kids!
Cognitive Flexibility: Using the right ingredients in the right sequence
Children learn to make logical sequences, using the right ingredients to prepare the pies based on their colour, shape and position. A logical sequence of production must be followed to complete the order, or else children must start over. Their cognitive flexibility is used because the sequence of pies changes with the orders.
3 interactive webisodes
In addition to the problem-solving games, 3 interactive webisodes allow children to exercise their fine psychomotor skills, build their self-confidence and develop their reasoning.
In addition to the problem-solving games, 3 interactive webisodes allow children to exercise their fine psychomotor skills, build their self-confidence and develop their reasoning. Through slight interactivity, children can get involved in the story and solve problems! In each mini-episode, our Genie friend causes a problem in spite of himself and each time, young players have fun finding a wacky solution. OR outrageous solution. OR crazy solution. A purely linear (non-interactive) version is also available.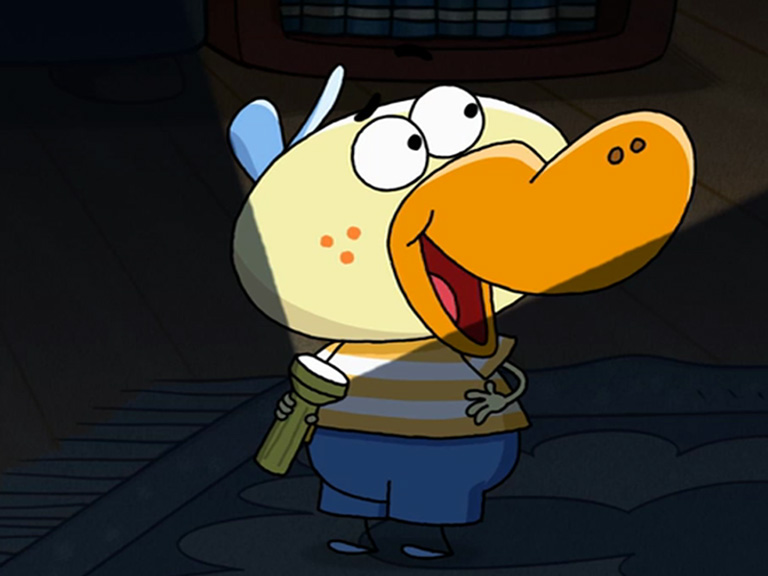 Lights, Please!
Psychomotricity: Mastering a gesture, practicing placing an element in a small space
Children must move the circle of light around in the dark to see the characters and find the chain, which allows them to turn on the living room light. Children exercise their fine motor skills and experiment with spatial organization.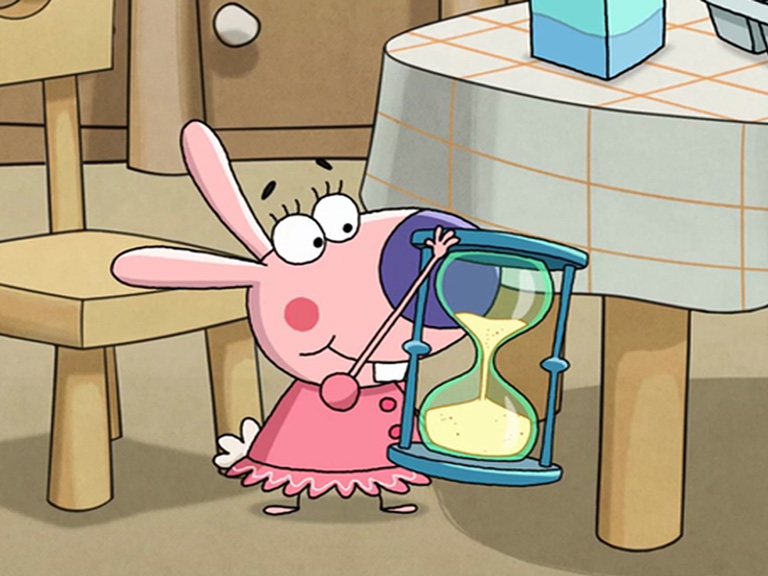 A Big Mess
Development of reason: Looking carefully, searching for the right element and completing the correct action
Children must click on various objects in the kitchen to find the hourglass that puts everything back in order. Children exercise their reasoning by using their attention and memory to explore a fictional environment.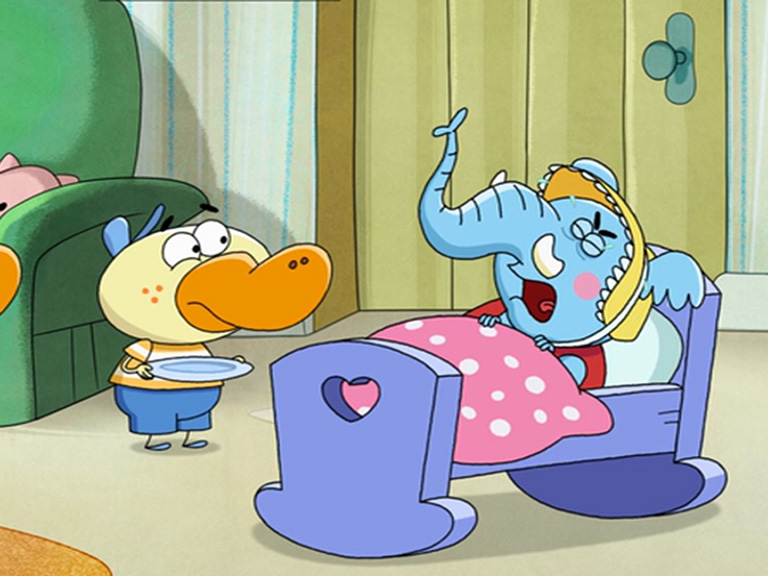 Baby
Self-confidence building: Recognizing the need of another, showing perserverence and initiative in making choices to complete a task
Children must find, among all that is in the room, what will stop Baby Genie from crying. Children experiment with autonomy and engage in a positive experience by responding to Baby Genie's need. Succeeding makes kids feel proud, which strengthens their self-confidence.